Being a live music junkie is easy in Berkeley, almost too easy. Being located in the Bay Area, a favorite spot for many artists, makes this the perfect city for concert lovers of all types. Whether you want to attend a small show at Cornerstone, conveniently located right off Shattuck, or you want to Bart over to the Civic Center in San Francisco for a rave at Bill Graham, the opportunities are virtually endless!
Being able to buy a ticket for a friend and I to see one of our favorite artists and know that, one way or another—bus, Uber, or Bart—we'll get there and have the time of our lives is one of the best feelings! Some of my favorite memories of my college experience thus far have been at concerts with my closest friends. 
My favorite, and what I consider to be the easiest venue to get to on public transportation, is the Fox Theatre in Oakland! Here I was able to see Conan Gray, King Princess, and Dodie all during my freshman year! I've also had the pleasure of going into San Francisco to see MXMTOON and Role Model at Great American Music Hall as well as Cavetown, YUNGBLUD, and Jeremy Zucker at The Regency Ballroom. Each experience was so different from the next but all brought mounds of joy and excitement!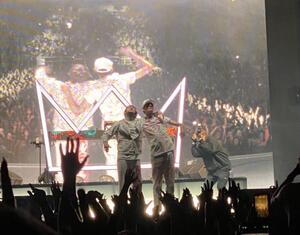 Louis the Child thank the crowd for an electric show as they close out their set with a bow at the Greek Theatre on Sept. 17, 2021.
In addition to the many concert venues in the surrounding area, Berkeley itself is home to the historic Hearst Greek Theatre where I was lucky enough to see Louis the Child right across from the very building where the Lewis Dot Structure was created. Bastille, Quinn XCII & Chelsea Cutler, John Legend, Lana Del Ray, and more all performed here in the past few years alone! However, as far as I know, none of those compare to the line for Phoebe Bridgers when she came to town. We also have the opportunity to see a free show put on by the music department at the weekly noon concerts in Hertz Hall. 
As you may be able to assume, concerts are my happy place, but learning to find the balance between escaping reality and staying perfectly on track with academics can definitely be difficult. I've had to learn to say no sometimes (a skill that more busy Berkeley students must learn), both to myself and to others when some concert opportunities arise. With the rapid increase in concerts following quarantine, I've found that going to see my favorite artists perform has almost become an extracurricular or a 4-unit class of its own. It's true that you never know when an artist may be coming back to the area and that their show a year or two down the road could be extremely different from the upcoming show, but it is also important to find what one of my friends calls "JOMO," or the joy of missing out. We spend too much time dwelling on what could have been as opposed to fully being in the moment and enjoying what we do have. 
Avid concert goers like myself can find utmost satisfaction with their options as a Berkeley student, but they must also be able to find balance and make sure that they are not overdoing it to the point where their love for live music gets in the way of academics.