As a campus ambassador, some of the most common questions I get on my tours are: what are some of the best classes to take? And, this one is a big one, but why Berkeley? What makes our university different from the rest?
The answer to these questions lies in L&S 12: The Berkeley Changemaker, a 2 unit course that students can take on a pass/no pass basis.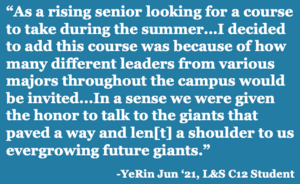 First offered in Summer of 2020, this course was so popular that it filled up a waitlist multiple times and expanded to accommodate huge interest. The course features 22 UC Berkeley faculty members including Chancellor Carol Christ and secretary of the treasury Janet Yellen, that guide students through a series of readings, lectures, and activities. The course syllabus for L&S 12 outlines an introduction to changemaking, training towards becoming a solution-oriented critical thinker, and culminates with an action plan for how you can be a leader on a tangible community project.
What does it mean to be a Berkeley Changemaker™ ? You see, Berkeley has this unique vibe which is hard to find on other college campuses: we question the status quo as we think, and act, beyond ourselves. Not only are our professors and students among the most brilliant minds, but the social and scientific contributions of Golden Bears past and present have quite literally changed the world. Whether it's been the discovery of the Calvin cycle in photosynthesis, the development of a cost-effective anti-malarial, or the birth of the Free Speech Movement, it is the people of Berkeley that have caused our larger global impact. A big reason I chose to attend Berkeley was because I felt this change-making attitude transcend throughout the campus on my college decision day four years ago, and today it continues to make me feel alive whenever I am in the presence of my Cal community. Despite visiting dozens of college campuses throughout the years, Berkeley is the only one that has exuded this special energy to me.
If you're not already sold on this course, allow the testimonials to convince you to enroll:
"As someone who has grown up feeling like the 'other' it was so empoweringhear that there is space for all people to make the meaningful changes they want to see…I'm so grateful to be a part of this program and to have the opportunity to gain the skills necessary for creating the change that I'd like to see!"    – L&S 12 student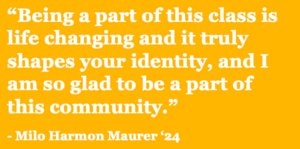 For students interested in being involved in this course, you're in luck! It will be offered in Summer Sessions 2021 and is geared towards inspiring incoming students, both freshmen and transfers! However, all Berkeley students are encouraged to enroll  regardless of where you are in your Berkeley journey. In addition, the 2021-2022 school year will also see additional Berkeley Changemaker connector courses in departments across campus that cultivate themes of critical thinking, effective communication, and productive collaboration https://changemaker.berkeley.edu/berkeley-changemaker-courses
If this program sparked a particular interest for you, there is even more exciting news! Newly admitted freshmen who complete L&S C12 in Summer Sessions D with a "Pass" grade will receive a credit toward the cost of this course on their account and will also receive a free unit of tuition toward a class or program of their choice during summer 2022. Additionally, there is now a first-year pathway that is one of your options for starting your time off at Cal. Instead of living in a UC Berkeley dorm, you will pay all the same fees and tuition but take your Berkeley courses out at Mills College in the city of Oakland! This fantastic opportunity will give you a unique way to start your Berkeley journey and give you the rare chance to be in a residential environment with a larger purpose https://changemaker.berkeley.edu/oakland/classroom
So when I think of why I chose Berkeley and why I am paid to talk about this fabulous school everyday, it always comes back to everything that Berkeley Changemaker stands for. As the world is in such a critical time that requires creative thinkers, passionate leaders, and optimistic energy, there is no better time to get involved with this movement!
For everything Berkeley Changemaker, visit the website at https://changemaker.berkeley.edu/