Hey you! Guess What? Move-in day is coming up fast! Before you start panicking and raiding your local Target (not sponsored), know that move-in is not at scary as it seems. While this marks the beginning of a new academic year and the next step in your academic journey, #dormlife is not as complicated as it seems and will be an amazing experience. Luckily, you came across this post and are about to learn some amazing tricks from your veteran at #dormlife and first-year resident assistant. Here are the five key things you should know.
You don't need your entire wardrobe (believe me)
Let's be real, the amount of space you have in the dorms will not be a lot, especially if you are in a triple or quadruple room (meaning you're with 2 to 3 other people!) You should bring clothes (obviously), but you will not need your entire closet. When I moved into my triple at Clark Kerr last year, I only brought enough clothes to sustain me for a maximum of 3 weeks. Then, I would do laundry as I go! That's a strategy I would employ if you're debating what to bring.
Here's a list of essential clothes to bring:
Shorts (especially for the summer/warm weather)

Jeans/Pants

T-Shirts

Some light jackets

Sweatshirts

PJs/Clothes to Sleep In

Athletic Wear (if you play a sport, work out, or dance!)

LOTS of closed-toed shoes (believe me on this)

At least one pair of slides or flip-flops
FYI, during the first week, you'll get a lot of free merch (school spirit shirts, lanyards, etc.) This stuff can also be added into your collection of clothes.
Invest in good bedding and a mattress pad
In college, you have to bring everything with you when you move in (well, not literally). But, you will need to bring lots of towels and linens. I highly recommend investing in some cheap but quality bedding (sheets, blanket, comforter, etc.) that can be easily machine-washed. For example, here are some from Target that I used during my first year and lasted me all year and into this coming year (Bedding and Towels, once again, not sponsored). Side note: Make sure you bring Twin/TwinXL bedding with you. All other sizes will not fit the mattresses on the dorm beds.
Speaking of the dorm mattresses, they have two sides (Soft and Firm) to them which I did not know until I moved out. Even though they have two different comfort levels, invest in a mattress pad!!! These things will save your life (and your back!) Trust me, how I got a good night's sleep (and 8 hours of it) every single night was because of my mattress pad. You can find these anywhere. I personally use this mattress pad from Amazon (not sponsored)!
Coordinate Communal Use Items (CUI-ties) with Your Roommates Ahead of Time!
When you're living in a small room with other people, you will definitely need to get used to sharing… a lot of things. But, it's always best to figure out who will be bringing any communal use items (I call them CUI-ties) for everyone in the dorm to use. This is so all of you will be able to pitch in for each other and help each other out by getting things everyone can use. 
Some examples of CUI-ties include:
Water pitcher and filters

A rotating fan

Snacks! (you will need a lot of these)

Laundry detergent/dryer sheets (unless someone has an allergy)

Shower locker lock (this will be further explained)
Work these out with your roommates early on to avoid future conflicts! The goal is not to have to move all your stuff out in the middle of the year.
Stock up on bathroom supplies and shower essentials!
This one is a bit more obvious and cliché. But, you will be sharing showers and a bathroom with probably 25-50 other people depending on how your dorm form is structured. And the bathrooms are all-gender, meaning that everyone is using them. Thus, things are bound to get lost in the mix. Luckily, the dorms have a shower locker which you can use to place your stuff. This should be also coordinated with your roommates so that y'all can have a safe space to store your stuff while showering. 
Some other things that are really important, shower caddy and shower shoes! Trust me on this, you will want to invest in both of these things. Shower Caddies are for bringing all your products into the shower with you; that way you don't have to carry it all in by hand. I have seen people use a plastic one however, these can get moldy pretty quickly. I recommend getting a mesh one which will be easier to maintain!
Shower shoes are a hygiene essential! When you are sharing a bathroom with that many people, it is absolutely vital that you wear shoes in the shower. Athletes' foot and fungal infections are no jokes, people! Any flip-flops will do honestly (I got mine at Old Navy for like $10).
Less is More (in the long run)!
This is probably the most important thing I can say. In the long run, the less you bring into the dorm, the easier moving out of the dorms will be. Of course, you'll want to bring everything your heart desires. However, this is just not feasible in the long run. I wanted to bring my entire Pokémon card collection with me (that's like one of my most prized possessions), but I realized that it would be better left safe in my closet back home in Spring Valley. Bring the essentials, and it will pay off in the long run.
Moving into a college dorm is a rite of passage for many of us. It is our first time being independent and on our own. It will be many of our first times away from home for an extended period of time. It can be scary and new. However, rest assured that you are not alone in this journey. You'll be supported by those around you.
Always remember that. Good luck and have an amazing time in your home away from home!
(P.S. Check out these two TikToks featured on the @ucberkeleylife Instagram account. My friend Gave will run you through things you should bring to your dorm and things you shouldn't!)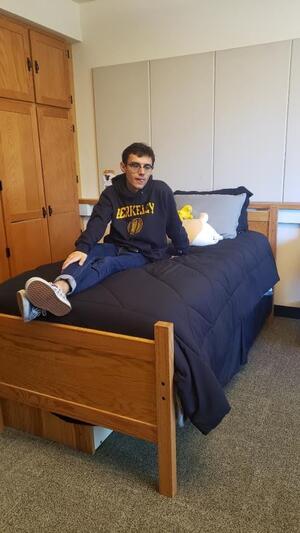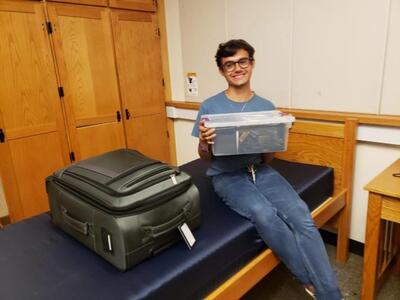 An exhausted me after fully moving in my dorm at Clark Kerr Campus, August 2021 and an excited me, fully moved out of my dorm, ready for the next adventure, May 2022.