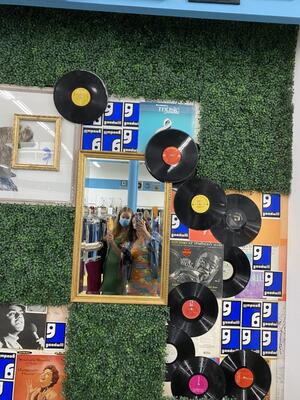 Not only can you get some cute finds, but you can also take cute pics and romanticize life!
Life at Cal can be rather stressful at times, and what better way to cope than with retail therapy? Lucky for the fashion forward student body, there are so many places to go and find a new favorite item. Or, better yet, a renewed favorite item! Consider this a go-to guide to all of the vintage, thrift, and small-business clothing stores around campus. 
Indigo Vintage Located down Telegraph, this is one of my personal favorite stops. I will admit that it is one of the pricier options, but if you only go when you want to treat yourself, it is definitely worth it. The employees are always so kind and ready to help you find everything you need and make you feel SO good about yourself! Also, if you're for any reason looking specifically for Harley Davidson, Disney, or wolf shirts, this is the place! 
2nd Street With an interesting balance of high-end or hype-beast items and affordable surprise finds, 2nd Street is a solid option for whatever you're looking for. With prices as low as $5, the way thrift stores should be, if you ask me, this is a great supplement to Berkeley's 2nd-hand scene. 
So-So Market One of the newest used clothing stores, this can be a fun pitstop on your way to class. While it is definitely on the pricier side, it can be appreciated for its constantly rotating selection and its nods to other local vintage stores where it sources its items from. 
Anastasia's This go-to stop has a fascinating, almost hypocritical, mix of new and reused clothing. When I go to a vintage store, I am usually looking for one of a kind items that will make me stand out. Anastasia's has some items like this located in the back of their store, but they also have more trendy, potentially fast fashion pieces in the window to draw people in.  
Crossroads TradingIts two locations, one down College and another on Shattuck, make this a quite accessible option for your sustainable fashion needs. As I strolled past the College location just yesterday, I made note of their well-organized racks, extensive selection of purses, and a sale section! A sale on already lower-price clothes?! Yes, please!  
Mars Mercantile Another very well organized place to shop! You can always go in and find exactly what you're looking for — especially if you're in search of a period piece, Hawaiian shirt, or swag windbreaker. This too can be on the steeper end of the price scale, but it provides a fun look into the past. 
Paisley VintageNot only do they have their Bancroft location, but they also provide a convenient sneak peak on their inventory through their online store! Their items are the epitome of "vintage," making this the perfect place to find your new favorite one-of-a-kind shirt, crewneck, or pair of jeans!  
Goodwill The thrift shop of all thrift shops, if you ask me! Whenever I think about something I'd like to have in my closet, going to Goodwill is my immediate thought! Not only do they have stellar options for unique clothes, but they also have crazy-cool mugs and such. 
Out of the Closet Easily spottable due to its bright pink and teal paint, this is one of the few places that I recommend driving or using public transportation to get to (unless you want to walk 35 minutes from campus). It has a stellar selection with always-affordable prices. Plus, 96 cents of every dollar goes to support patient and homeless care and they provide HIV and AIDS resources and support! 
There you have it — an almost complete list of the reused clothing stores in Berkeley to fill all of your retail therapy needs. When classes get tough and you're not feeling so great inside, you can at least make yourself feel good from the outside!