To my beloved hiring class,
We made it! The hiring process, five months of training, Cal Day, and the tours we did in the Spring finally paid off. We made it to the Summer! Now comes the lock-in shifts we have together, the tours we give on the weekdays, working the Visitor Center and Campanile on weekends, and bonding in our downtime by exploring the Bay and Berkeley. 
This summer has definitely been a challenge for us. For many of us, this is our first real job. We have had to break out of our shells, take on new responsibilities and adapt to what this job brings us on a day-to-day basis. Some of us were asked to become the leaders in the Campanile, running the desks like we saw our LTs and Senior Ambassadors do before us (Shout out to Jimmy for training us). Some of us were tasked with maintaining the behind-the-scenes of the many group tours and GCTs we lead daily (Shoutout to the 101 summer squad). We become the leaders who trained us – some of us ending up on the Leadership Team for the first time (Shoutout to the three new LT: Hailey, Maggie, and Brandon).
Yet, each day we are brought together even closer. Leading tours, running the visitor center and campanile, grabbing food on the off-time. We are always finding new ways to be with each other even when we are at our lowest. We rally for each other when we are down, picking up sub-requests so we can spend time with family, study for summer classes, or just when we need a break.
This was the summer that made or broke some of us. Some of us continue in this job for the long run, and others left and are off to do bigger and better things in life. Yet, we still always remained close to each other. No matter what came into our lives.
This is a shoutout to you, the 2022 Hiring class. Thanks for the memories, laughs, and everything you've brought this summer. Adrian, Anna, Andre, Bea, Brandon, Dav, Emma, Ethan B. "Bethan," Hailey, Jordan, Kat, Layne, Leila, Leslie, Lila, Lillian, Lori, Maggie, Max, Maylis, Mehnaz, Nathan, Rena, Rohil and Samantha, you all have my heart. I love you <3
(P.S. #teamjimmy always slays– Sam, Nathan, Maylis, Emma, and I; also #ganglysta – Andre, Adrian, Kat, and I (unofficially but still))
Go Bears,
Ethan C. "Cethan"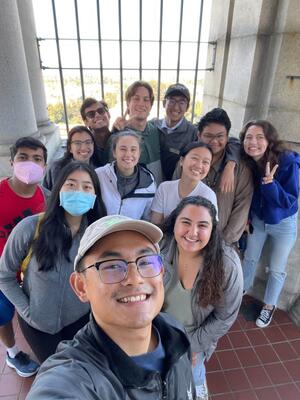 Ambassadors, post training to lead the Campanile operations, May 2022